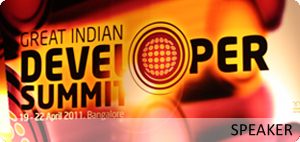 I will be speaking at the Great Indian Developer Summit 2011, at J N Tata Auditorium, IISC, Bangalore on the 21st and 22nd April 2011.
Here are the abstracts for my sessions,
Developing Apps for Mobile Platforms with Adobe AIR 2.6 (link)
April 21, 2011. Thursday
Adobe® AIR® is a runtime that enables developers to build standalone RIA applications on all the popular desktop platforms as well as mobile platforms like Android phones and tablets, RIM Playbook and Apple iOS devices. With Adobe AIR, it is extremely easy to create, distribute and also monetize your apps. You can develop these apps using Adobe Flex/Flash and your app can consume data/services from your existing enterprise back ends or public web API. This session is specifically aimed at introducing the capabilities of Adobe AIR to Java developers.
Developing Mobile Applications for Multiple Platform (link)
April 22, 2011. Friday
The Adobe® AIR® 2.5 runtime enables developers to use ActionScript® to build web applications that run as standalone client applications without the constraints of a browser. A key component of the Flash Platform, AIR unleashes the creativity of designers and developers by providing a consistent and flexible development environment for the delivery of applications across devices and platforms. In this tutorial, you will learn how to build AIR applications for BlackBerry Playbook, Android and other supported devices and platforms using the Adobe Flex framework.