The much awaited Flash / Flex / Actionscript developer summit, the Adobe Flash Platform Summit is back again on 27th – 29th July at Bangalore, India with all new and exciting content around Devices, Experiences & Innovation. Watch out for exciting sessions around Flex for Mobile and Enterprise. Also with us this time are a host of Product Managers apart from Duane Nickull and Renaun Erickson, Evangelists from across the world. Ben Forta, too, is going to be there.
I will be speaking on the 28th July. Here is an abstract of my session,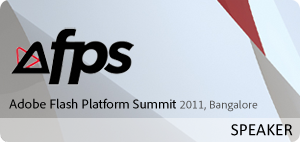 Building P2P Apps for Mobile Devices
Duration: 50 mins
This session is an insight into the Peer-To-Peer capabilities of AIR for Mobile. Bring about a better user experience and improve efficiency with your apps communicating with each other over the RTMFP protocol, without the need for a server. Take advantage of this capability supported across Playbook, Android and iOS devices, Cloud Sourcing information across varied platforms. Understand Peers, Multicasts, Groups, Directed Routing, et al. The session gives you a kick start in creating Video Chat apps, Multi-Player Games, Data sharing apps and more.
Got a host of demo's lined up, so expect something more than just file sharing in this session.
In case you haven't registered yet, don't risk missing all the excitement ! REGISTER NOW
See you all there !