It's that time of the year when the ColdFusion community huddles up at Vegas! ColdFusion Summit 2014. If you are a web designer, developer, strategist, or thought leader, ColdFusion Summit provides the perfect forum to exchange ideas and experiences. Its an opportunity to interact with ColdFusion experts, domain leaders, and peers, and learn about the latest technologies, techniques, and strategies to help you rapidly build and successfully deliver web applications to market.
I will be speaking at the summit along with Hari Krishna Kallae. Here is an abstract of our session,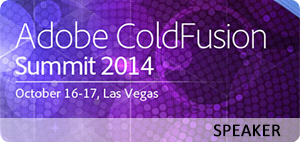 The App Server, The Web Server and everything in between
Duration: 45 mins
This session gives an insight into the internals of the bundled Tomcat server and ColdFusion connector. The session helps you understand the routes taken in a request to the ColdFusion server and hacks that power them to go beyond. The session aims to answer your questions around ColdFusion connectors, webservers and tweaks that improve connector performance. Also included, is a sneak peek into getting ColdFusion to work with webservers like NginX.
There are also many other very interesting sessions scheduled for the two days. In case you haven't registered yet, don't risk missing all the excitement ! REGISTER NOW
See you there !